Cambodian Mango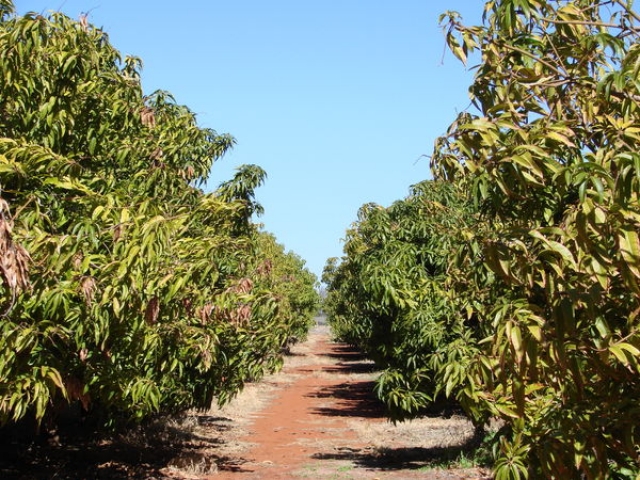 --- Keo L'Meat Mango ---
Mango trees have been cultivated in Cambodia for thousands of years ago. It is a fantastic fruit which is very popular for Cambodian's daily life consumption. Mango tree is well-suited with Cambodia soil and the climate condition which is cool and dry. Therefore mango tree is broadly grown in the entire country.
Mango can be served as vegetable and also as dessert. Its fruit and leaves preferable used in cuisine, the unripe mango used as sour spice of Khmer sour soup which called Samlo M'chu, the young mango leaves serve as great vegetable for Teuk Kreung and Prohok (fish paste) - the special daily Khmer food. We also can make mango salad using unripe or green mango mixing with shrimp, pork, chicken flesh, or dried fish. Khmer people like unripe mango, typically they used in pickles, side dishes. Especially, teenagers like eating green mango with salt, chili or soy sauce.
However Keo L'meat which is a Cambodian name for a type of mangos commercially cultivated for the export market while reserved some for domestic consumption. These mango trees are popularly grown mainly in Kampong Speu province famous for its sandy dirt or at fertile land along the might Mekong River. With regard to pricing, mangos that are grown on sandy farm tend to have solid meat and better taste thus receive more money per kg than the ones grown along the lake.
What is good about the Mango farming is that you do works only a couple times per year for their first five years which include two plowing so that the soil is soft , planting, caring and fertilizing, once the trees start yielding, middlemen will come to your farm, observe the mango trees, will take over the process when the negotiation is reached.
Export Market:
Low Season at Farm Price:
Sandy Land – 800 Riels
Non-Sandy Land – 500 Riels
High Season at Farm Price:
Sandy Land – 2,700 Riels
Non-Sandy Land – 1,500 Riels
December is highest paid price
Start-up Cost per hectare:
$750 per hectare inclusive of land clearing, plowing with 3, 5 and 7 blades
$145.00 = 290 trees x $0.50
Land not included
* Mango trees should be grown around 290 trees per hectare which is a suitable number that can provide enough space for tractor to move around for plowing, transportation of fruit, fertilizer, and to water the plant, etc. Smaller trees can yield better than the grown ones.
Year 1 – 4:
Fertilizing: $812 = $0.35 (fertilizer - 1/2 kg) x 290 trees x 2 times x 4 years
Plowing: $400 = $100 x 1 time x 4 years
Watering: $400 = $50 x 2 times x 4 years
Weeding: $200 = $50 x 1 time x 4 years
Note:
- 50kg bag of fertilizer costs around $35 which equals to $0.70 per kg
- First four-year expenses is roughly $1,812
Year 5 and up:
Fertilizing: $406 = $0.70 x 290 trees x 2 times, to keep tree healthy and grow
Plowing: $100 = $100 x 1 time, to loosen soil
Watering: $100 = $50 x 2 times, during dry season between November to March
Note:
- 50kg bag of fertilizer costs around $35 which equals to $0.70 per kg
- Yearly expenses after 4th year is approximately $606
- The trees will keep growing yearly thus they also produce more yield which you will be offered for more as well.
- Mangos are ready for pick when they are about to ripe.
Income per hectare:
$8,700 = $30 x 290 trees
$30 per year per tree was 2012 market price
Middlemen will care the plants, pick, pack and transport themselves
They will pick twice per season